TextBase - Connected Products
TextBase is a unique product that creates an experience that lies at the intersection of the physical and digital. TextBase was designed to be a playful method of interacting with the bible by creating a beautiful and simple product experience that is thought provoking and pragmatic. TextBase is a delightful web-connected printer that sits comfortably is social spaces. Developed to provide a unique way of interacting with the bible. TextBase was loving hand made, constructed using finely polished precision cut acrylic with light wood panels that create a nice contrast. Print outs are simply formatted letting the products design speak for itself. Developed using an Arduino Uno and Mega, with a GSM module, a hacked thermoprinter connected by Max233less
TextBase is a unique product that creates an experience that lies at the intersection of the physical and digital. TextBase was designed to be a playful method of interacting with the bible by creating a beautiful and simple product experience that is thought provoking and pragmatic.

TextBase is a delightful web-connected printer that sits comfortably is social spaces. Developed to provide a unique way of interacting with the bible.

TextBase was loving hand made, constructed using finely polished precision cut acrylic with light wood panels that create a nice contrast. Print outs are simply formatted letting the products design speak for itself.

Developed using an Arduino Uno and Mega, with a GSM module, a hacked thermoprinter connected by Max233less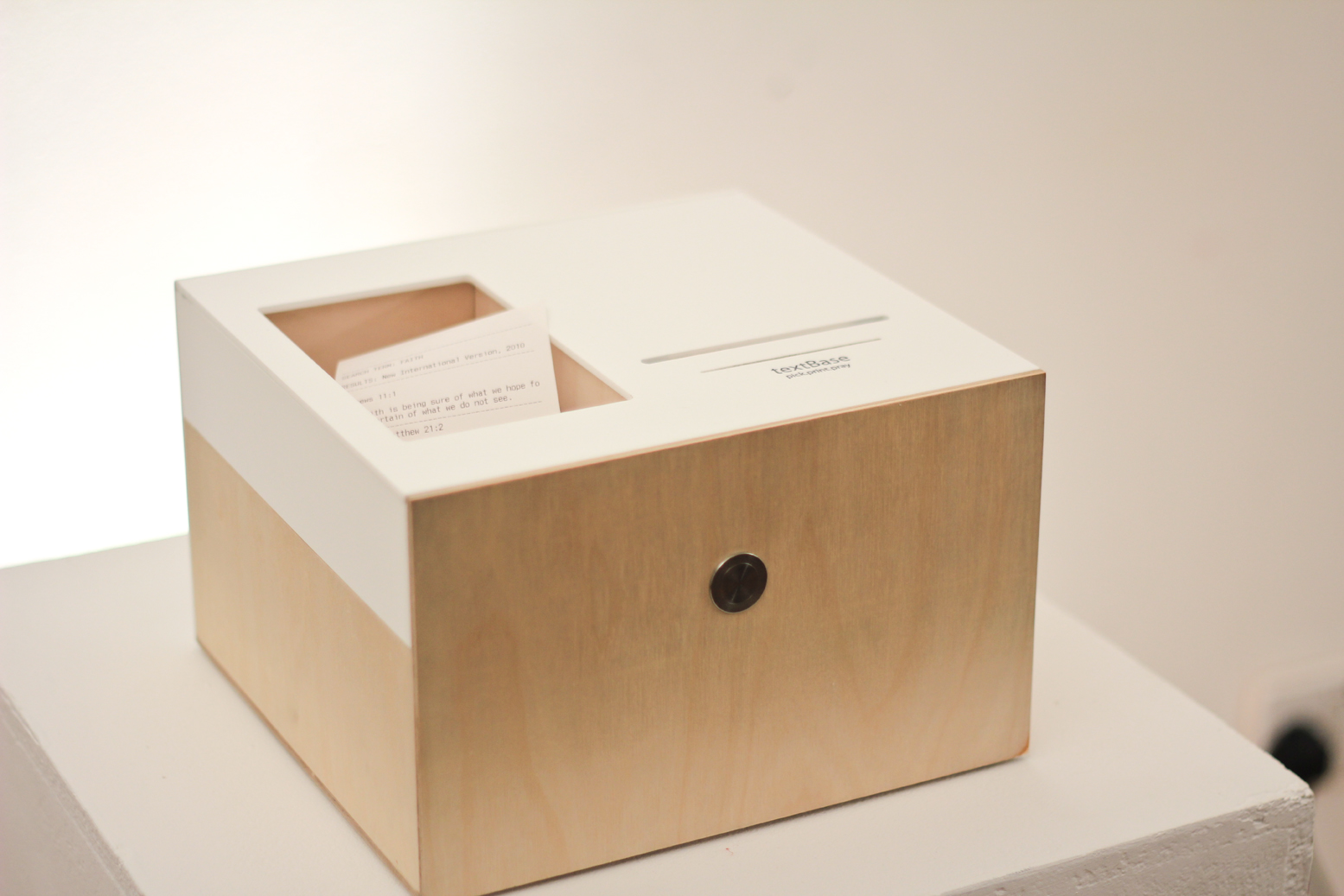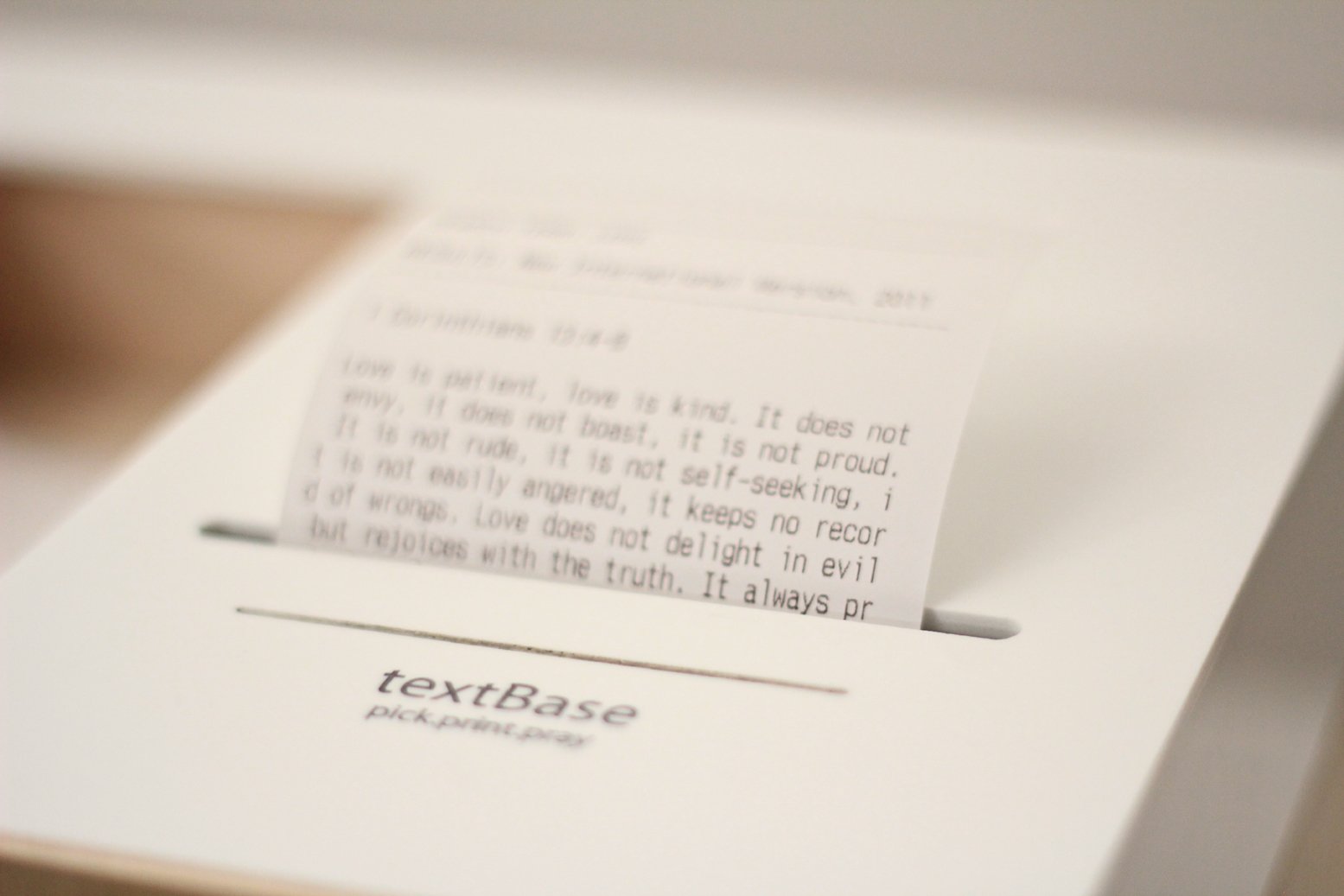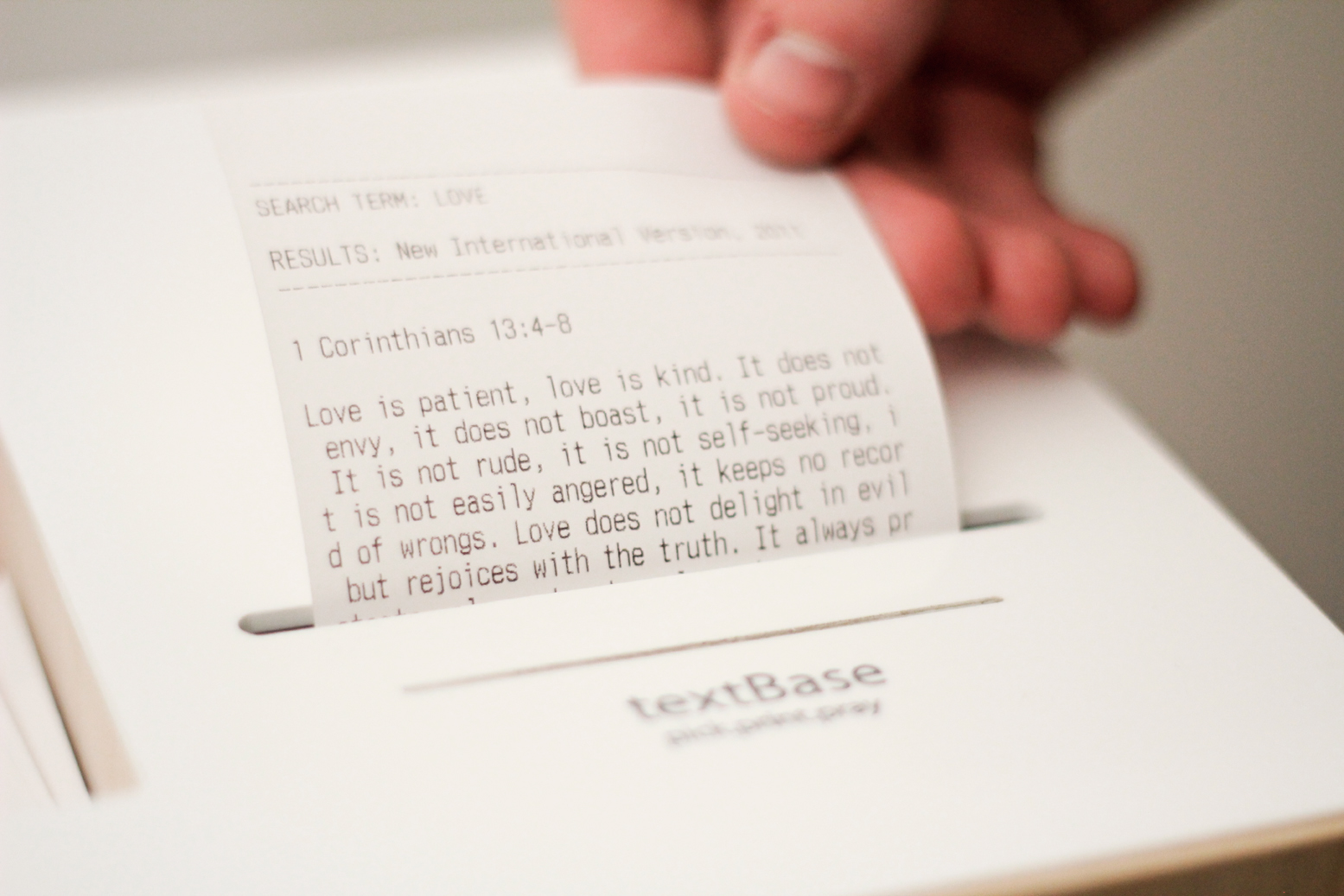 The Story behind the Product
This product was developed as part of my final year project in Product Design at Duncan of Jordanstone, Dundee University. The project was split up into four developmental stages:
Find; Play; Make and Talk
. I will walk you through these below
In a day and age where our cultures are socially comfortable and society is moving away from faith based communities, how can design led innovation make faith communities more engaging and relevant to younger generations. 
"I am exploring how social medias and digital technologies can support and enhance faith based communities and what impact they might make." 
Stage 1 - FIND

(Research, User Stories, Insights and Ideas)
From the Insights I captured, 100 ideas were sketched out to bring to life and explore potential behind these insights. Insights were captured by using different design methods: both qualitative and quantitative research, user research, cultural probes, experiential research, and design thinking.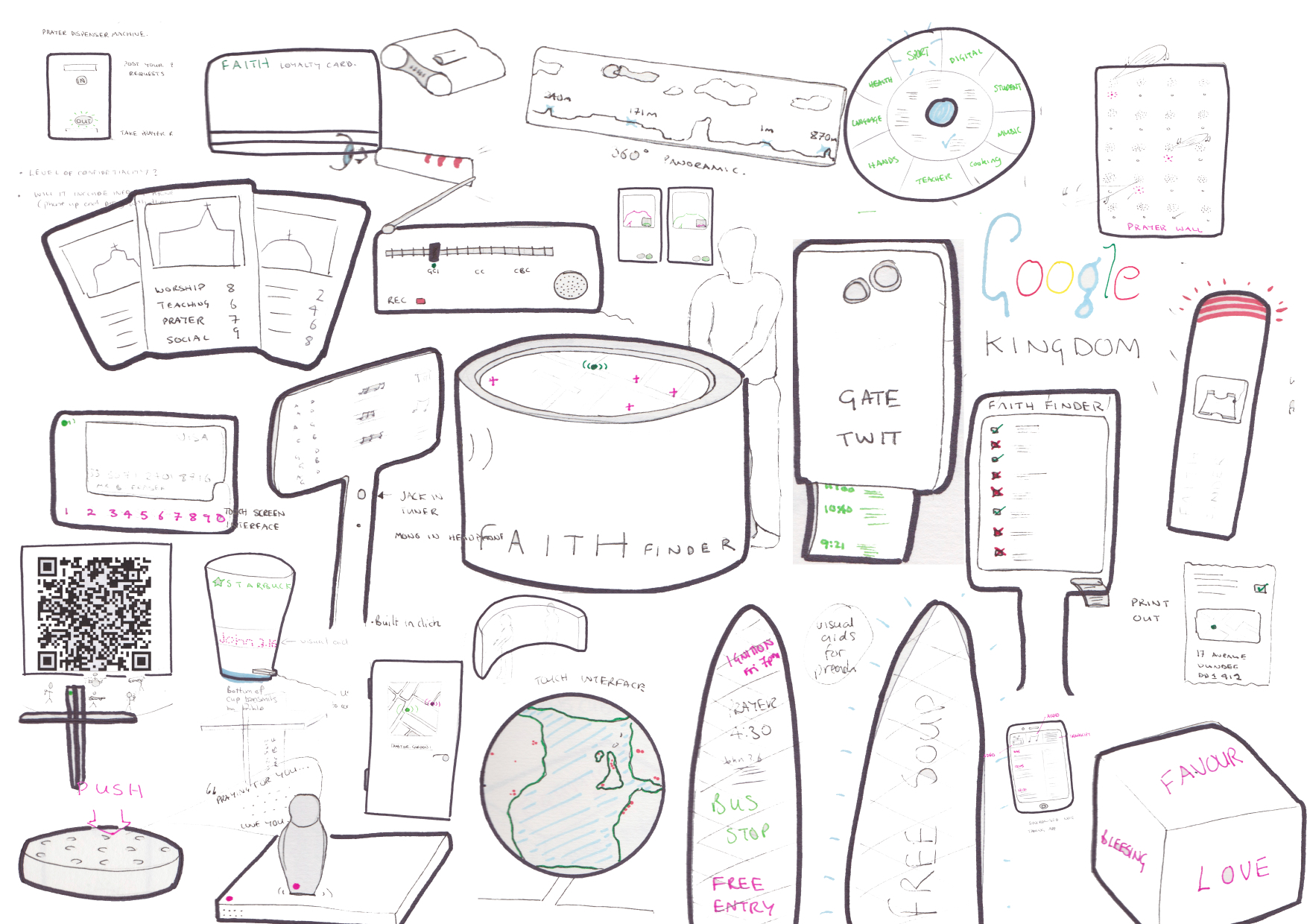 These Insights and Ideas were presented to industry experts and design professionals from the likes of Nokia and NCR on what we called "Ideas Day" from the origianl 100 ideas, I presented 20 of these of which I believed to show most promise. 
Stage 2 - PLAY
(Exploring digital technologies and applications)
After identifying the idea which I wanted to continue to develop I started to explore potential technologies for product development. I picked up a couple of micro printers from a local shop in Dundee that I managed to hack and programme to print out particulars using arduinos.
I needed to start and get a general idea of what my product would look like, so it was important to begin prototyping. 
Exploring different tech such as wifly shields and texting via the GSM playground allowed me to understand what would be most suitable for my project and help me understand how different technologies can change user interaction. I decided to use texting as my key user interaction platform as I felt it was a richer interaction that was widely familiar. 
I had now defined the technology I would be using and started to progress towards my final product. I created mood boards to create a clearer idea what style and feel I wanted my product to have.
More protoyping helped me refine my dimensions and decide upon the final materials I wanted to use, ratios of material and how to construct the model and integrate my technology properly in a tidy and easy to access manner.
One of the tools I used which allowed me to create a number of feature on my product is the laser cutter. It was very accurate to create detailed features. I also had to experiment with layout for printing the scripture out 
Stage 4 - TALK
(Reflecting upon the design process, promotion and exposure. )
During the talk stage I have been able to reflect upon my project and identify areas that i might have gone back and changed or done differently , but has also given me time to step away from my product and gain an appreciation of it and to be satisfied with my final product. 
A simple website, video, press release and walkthrough were created to support the products in its documentation. Press releases were submitted to design blogs. It was encouraging to see your work spread around the web so quickly.
Final User testing was very important at this stage , not to pick up on things i could change but to gain understanding on how my product could be applied and how it would fit into its environment.